Permanent Makeup
Cosmetic & Medical Permanent Makeup Specialists
Call Today for a FREE Consultation!
3D Microbladed Eyebrow Shading & Feathering: $450
Enhanced Shaded Eyebrow: $375
Color Correction: $150
Full Lip Fill: $350
Lip Liner: $250
Upper & Lower Eyeliner: $400
Upper Eyeliner Only: $250
Lower Eyeliner Only: $200
Areola Camouflage: Consult required
Scar Camouflage: Consult required
Beauty Mark (create): $100
Scalp Pigmentation: $125 per hour (2 hr minimum)
TOUCH UP POLICIES AND PRICING:
Touch-up pricing and appointments do not apply to tattooing over work previously done by another artist. You must book initial appointments first to receive touch ups.
For eyebrows:
2 touch ups will be included which must be booked after 5 weeks no later than 10 weeks after your initial appointment
$100 within 3 months
$150 within 6 months
$200 within 12 months
$300 within 2 years
Full price after 2 years
Eyeliner:
1 free touch up will be included between 5 and 10 weeks of initial appointment.
Lips:
1 free touch up will be included between 5 and 10 weeks of initial appointment.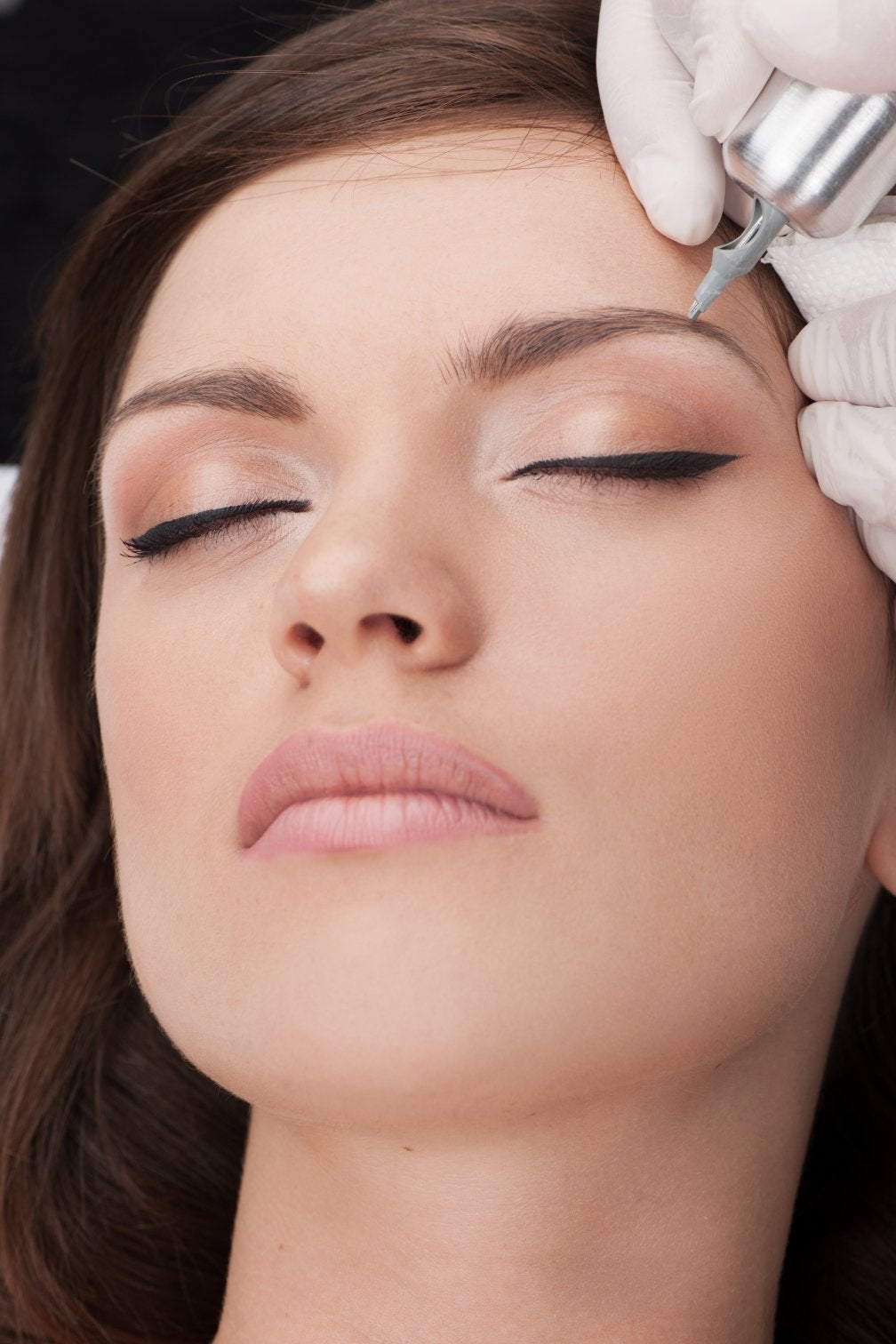 Frequently Asked Questions:
How long does permanent makeup last?
Permanent makeup will fade off over the years. While this may be disappointing to some, others may be more comfortable with this knowledge. The national average life span between touch ups is said to be 3-5 years for eyebrows, and 2-3 years for lips. Sometimes there are clients where their permanent make up can last longer than 5 years, while others can fade after a year.
The causes of fading permanent makeup can be from:
UV rays
Oily skin
Anti-aging products applied to the face
Rejuvenation or cellular turnover
Iron deficiency
Strong immune systems
Exposure to salt water
Pigment removal by the body depending on the chemistry of your body.
What should I expect?
A full and in depth consultation is carried out at the time of your appointment to understand your skins suitability and realistic expectations of permanent make-up. The treatment that you receive is completely custom designed in accordance to your facial proportions. We will always draw on first to make sure the design is to your liking and get your approval before we start. Your photo will be taken and we will apply a topical anesthetic cream to start your numbing process so you will be comfortable during your procedure.
You may NOT have this procedure if :
You are under 18 (without parental consent)
You get keloid scars
You are pregnant or breastfeeding
You have been on Accutane within 1 year
You have irritation of the skin of any kind such as blemishes, pimples, rash, psoriosis, eczema, rosacea, sunburn on the area of procedure.
You are on Retin-A or Retinols. Be off 7 days before appointment and avoid 30 days after procedure.
Diabetic (consult your doctor)
Have HIV or hepatitis or any other viral infections and/or diseases
Undergoing Chemotherapy (consult your doctor)
Epilepsy
A pacemaker or major heart problems
Had an organ transplant
Sick (cold, flu, etc. Will affect the healing process, please reschedule)
You generally don't heal well and develop infections easily
What do I need to know/do to prepare for my appointment?
Do NOT DRINK ALCOHOL or CAFFEINE before the procedure (at least 24hrs for alcohol)
Do NOT TAKE ADVIL or other blood thinners such a Aspirin, Niacin, Vitamin E and/or Ibuprofen unless medically necessary, 48-72 hrs prior to your procedure. Extra strength Tylenol can be taken if you have low pain tolerance.
If you have recently tanned this will affect the outcome of the healed color.
If you've had laser removal of previous work done by someone else, the treated area has now more scar tissue and can affect the outcome of the result. More treatments may be necessary to have the skin take the color.
Botox should be done 2 weeks before or 2 weeks after the procedure.
Avoid exercising the day of procedure as this will open up the pores.
Please note that you will be more sensitive during your menstrual cycle.
No waxing or tinting 3 days before
The first appointment is about design, and building hairstrokes. The touchup is about seeing how the skin heals and retains pigment, as well as making any necessary adjustments to achieve more definition and volume.
Immediately following your procedure, the tattooed area will appear to be darker and bolder in color and more sharply defined. Over the next 3 days it will appear even darker and thicker as scabs begin to form. Let the scabs naturally flake off bit by bit. It will take up to 14 days for scabbing to be over.
You may NOT get the area wet or apply any kind of products (except what I provide for your aftercare) for at least 10 days after. NO makeup on the area for 2 weeks.
What should I expect after my procedure?
Immediately after, the area will be EXTREMELY dark and get darker over the next 2 days as a scab forms in the area. 30-50% of your pigment will be in the scabs. Over the next 7-14 days your scabs should flake off bit by bit. Some people scab lightly and some develop a thick scab. Everybody is different, but whatever you do, do NOT pick at the scabs and make sure you read through and follow the AFTERCARE INSTUCTIONS properly to obtain the best results.
If the scabbing phase is not over by 14 days, please continue your aftercare instructions until scabs are completely gone.
After the scabbing phase is over, you will see that the color of your pigment appears foggy and muted in color because a layer of skin has grown over the pigment to seal it in. Not to worry, over the next several weeks your skin will regenerate and the pigment will be more vibrant in color. The complete healing process takes at least 6 weeks which is when the true orientation of the pigment will show.
For most people, there shouldn't be too much of a problem going to work or being out in public, as long
s you're good at following aftercare instructions. However, some people may develop thicker scabs and have minor swelling. You may take an Advil or apply an icepack after your treatment to reduce swelling and discomfort.
Can I get them wet?
Do not get them wet for at least 10 days. Getting them wet may cause premature lifting of your scabs and increase the chance of infections and loss of pigment. You must keep them dry to avoid complications and undesired results such as smudgey blurred lines, scar tissue, and uneven pigment.
Can I wash my face and put makeup on them?
Not on the brows for at least two weeks but everywhere else is fine. Chemicals found in makeup and cleansers may alter the color of the pigment and affect the healing process.
Does it hurt?
I use a strong topical anesthetic cream and gel with 5% Lidocaine for numbing before and throughout the procedure for maximum comfort as pain tolerance will vary from person to person.
If you require something stronger, you may ask your doctor for a prescription of 10% Lidocaine numbing cream (please make sure the consistency is cream-like NOT Vaseline like as the greasiness will alter my markings for your brow shape).
You may bring 1-2 Extra strength Tylenol to take after our consultation for additional comfort if you have low pain tolerance.
Touch ups
The first appointment is about design, and building hair strokes. The touchup is about seeing how the skin heals and retains pigment, as well as making any necessary adjustments to achieve better symmetry, definition, or volume
1-2 touchups are necessary to fill in any sparse areas for a very natural look.
If you are opting for a fuller more defined look, then the touch up is recommended to achieve desired results.
Some may need a 3rd session to complete the process. Especially if you have little to no hair to begin with, have scar tissue, oily skin type, or we are trying to cover up an old tattoo.
What pigments do you use?
I use kosher iron oxide pigments. These pigments fade over time as your body will naturally absorb it. They are considered the safest semi-permanent pigments to use for skin.
What is your sterilization and sanitation process?
All needles are single-use, come in a sterilized package and are disposed of after each client.
Implements such as gauze, cotton pads, cotton swabs, etc. are single-use and disposed of after each client.
Gloves and masks are worn at all times during the procedure and disposed of after each client.
All stations are thoroughly disinfected with Caviwipes after each client
Note: Results may vary.